Why Remote Respiratory Monitoring (RRM)?
For providers and researchers, remote respiratory monitoring (RRM) has evolved from being a forward-thinking, nice-to-have to a necessity since COVID. For people who have a chronic respiratory condition such as chronic obstructive pulmonary disease (COPD), cystic fibrosis, pulmonary fibrosis, or asthma, RRM offers the ability to monitor lung function anytime anywhere and may offer an invaluable tool that can supercharge your practice or clinical trial.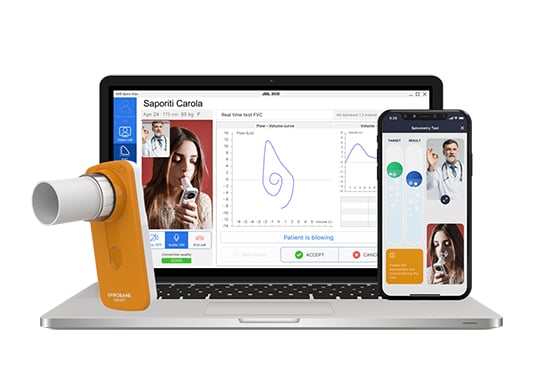 What can an RRM solution do for you and your patients?
RRM is the use of digital technology and smart devices to monitor and capture medical data from patients. The data is then securely transmitted to healthcare providers for review. The critical use of at-home, easy-to-use technology means that patients of all ages may be monitored from their own home. Research suggests that RRM can help improve quality of life and contain costs by reducing the number of hospitalizations, readmissions, and lengths of stay in hospitals.
At-home, personal spirometers for all ages
The Spirobank Smart and Smart One personal spirometers are designed for real-time spirometry on your smartphone (iOS or Android) via Bluetooth connection. Now more than ever, there is a great need for accessibility to tools that allow patients to personally assess the state of their health and, in particular, cardiorespiratory function.
Connecting a MIR personal spirometer to a mobile app allows patients and healthcare professionals to remotely monitor lung function through a simple, cost-effective Remote Patient Monitoring (RPM) platform.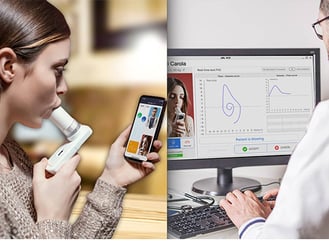 Enhance remote patient monitoring with Live Video Exam
Patients can now perform spirometry and oximetry tests remotely with real-time support from healthcare professionals. This is a step ahead of the traditional home care solutions, where the patient is not supervised during the test - and is quickly becoming the new gold standard in remote respiratory monitoring.
The Live Video Exam app is Windows-based, and connects in real-time with the patient's MIR Spirobank App securely. This reduces traveling cost, operational expenses, and contamination risks.
Looking to build a customized RRM solution?
MIR offers a Software Development Kit (SDK) for iOS and Android to assist RPM platform programmers in developing their own customized RRM solution.
Request More Information
We're excited to share more information with you about our Remote Respiratory Monitoring solutions! Please fill out the below form and our team will contact you shortly.